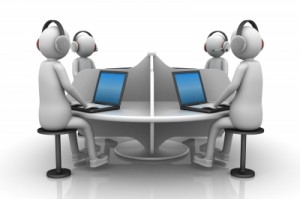 Call centers are moving from the traditional telecom networks of channelization services covering voice, web, video, email and text chat services based on IP and VOIP applications. The transition also includes CRM applications facilitating better customer services in a multi-channel collaborative contact center mode of operation.
A typical unified contact center would be based on an IP based call center platform that smoothly integrates internet with inbound and outbound voice calls and simultaneous interactions. This does not rely on the mode of communication chosen by the customer. The centralized contact center handles and routes calls from customers effortlessly and intelligently. This results in directing calls to the best resource, immediate responses through website, chat, text or voice interaction or even email interaction when needed. A modern call center platform includes desktop and network integration with standard implementations in a cost effective way. Automatic queuing keeps tabs on activities of a particular agent as regards time and task. Cloud based, the call center platform works without a hitch regardless of where an agent is located. The solution also has inherent capabilities for call management and call treatment. An increase in efficiency can be observed since the applications are focused on helping a call center agent make optimal use of time. Security and data integrity are other aspects that come along with the package when you switch to the latest call center platforms.
It is also easy for supervisors and call center management to view the activities of each agent, contact each one with text or chat messages, break in to a call, monitor calls and record conversations. You can expect real time reporting features and accumulation of historical data in a unified solution. On top of it, the entire solution has a web based interfaced for easy administration. Another advantage for management is access to latest standard hardware with supporting software at lower costs. Typical modern solutions make use of Open Database Connectivity, Java, .Net and COM applications and have backward integration with existing functions and solutions. One of the greatest benefits is that service providers scale hardware and software with minimum impact for users of the call center platforms. At the same time, they provide full support, diagnostics and fault tolerance to reduce incidences of breakdowns and disruptions of service in a reliable environment. The platform automatically categorizes customers, delivers a contact to the best person who can handle the call, creates customer profiles and manage interactions based on defined attributes. It is for the management to opt for an on-premises solution or go in for cloud based solution (communication as a service platform) with an easy migration path.
The net results are better customer interaction and greater satisfaction, enhanced efficiency and productivity and creation of brand loyalty through generating greater perceptions of reliability and responses that leads to a stronger business.
Cisco is a dominant player in this segment and offers high tech end-to-end solutions. As the advantages become obvious increasing number of call centers opt for cloud call center platforms and cloud routing  enabling them to handle thousands of calls in a flexible environment.
Image courtesy of renjith krishnan at FreeDigitalPhotos.net