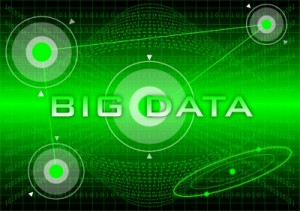 Marketing is all about people: knowing them, their needs and then matching their expectations. Big data has changed the way marketers initiate campaigns. Instead of basing approaches on broad assumptions, big data in marketing has helped them to understand specifically the requirements according to age, region, economic status and other parameters. Big data as a marketing tool is the future of marketing forming the core of finely refined customer-centric, cost effective strategies yielding better returns and satisfactions from both sides.
Big data, as it is understood, refers to huge volumes of data flowing in a seemingly never ending stream. Data volumes, velocity of data and the type of data flowing in a deluge are all part of big data. Traditional database methods fall by the wayside when it comes to gathering, categorizing, analyzing and coming up with something definite. Big data technologies today can handle such structured and unstructured data in real time and immediately present marketers with the changing face of people's preferences in order to perfectly time their campaigns. Data from CRM systems, from social media, from search engines and from ecommerce sites serve as inputs for analysis in real time to help sales teams "strike while the iron is hot". Big data collaborating with marketing brings order from the chaotic collection of information, helps marketing people gain insight from millions of actions and interpret these in a way to come up with effective insightful, focused, result-oriented strategies.
See Also:-  Books That Will Help You Get Started in Big Data
Implementing Big Data Analytics? Tools That Make It Possible
Marketing personnel often make decisions based on intuition without adequate back up statistical analysis of present preferences and future trends. Big data makes sense from the chaotic collection of information empowering smart marketing personnel to lay the foundation for data driven implementations that will show results in the long term. However, in order to take advantage of big data marketing personnel would need to be familiar with statistical analysis or have personnel on the team who can make sense from the data and create value for their company and for their customers. Marketing departments may think of big data in the context of a specific strategy or work from the other end, using outputs from big data statistical analysis to come up with marketing strategies that will make effective use of analyzed data.
Big data is indispensable for the present and the future. You can guage it from the way in which big data is increasingly being relied on by companies as an indispensable marketing tool. 50% of large enterprises use big data analysis for marketing that has gained them about 30% increased returns. Big data is helping marketers "get into the customer's mind" with pin point precision, translating to higher revenues and better customer retention. With big data analyzed to greater depth, marketing personnel can have detailed and exact figures on habits, preferences, know what influences their thought process, know about their social and professional circles, behavior patterns and expectations. With this knowledge it becomes easier to build highly targeted campaigns that get results.
Big data is the future: it supports, lets you innovate, helps you gain an advantage through finely tuned, data driven, statistically analyzed decision making and all of it is done in real time. Big data has helped deliver looking-into-the-future, crystal ball prediction powers to marketing people that they are translating to data driven action immediately, thus accelerating the marketing cycle; getting to a consumer first and forging into the lead while establishing a strong brand presence.
Big data flows in from online and offline sources; from web, email, mobile devices, point of sale devices and social media in structured and unstructured format, presenting challenges when it comes to extracting meaningful information that helps marketers understand consumers, derive insights, anticipate their needs and reach out in a contextual, relevant and personalized way. Big data catalyzes change in corporate perceptions, interactions with customers, collaborations between IT and marketing and brand awareness like never before.
From a fuzzy approach, marketing has become more scientific, data driven and guarantees better returns on investment, leveraging the power of big data in different ways. For instance a large chunk of enterprises finds that conversions are the main benefit of big data for marketing. Another large segment appreciates the insight delivered by big data in marketing. For some marketing companies location based refined data is what they like about big data technologies for marketing. Yet another segment finds the personalization afforded by big data marketing analytics a big plus. Big data is the next quantum leap, delivering astounding benefits through data driven marketing strategies that can be executed with speed and with less efforts to a targeted market segment. If you don't go with it you get left far behind.
Image courtesy of photoexplorer at FreeDigitalPhotos.net