Cloud computing path was founded in 2012 based on the view of that cloud computing is the future of technology. We provide content on a wide range of industry issues – including the latest storage and hosting solutions for all business sizes, virtualisation, implementation strategies, infrastructure, cloud security, cloud deployment, provider selection etc.
BEHIND THE BLOG: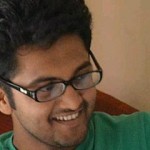 Hi, I am Pravin Anchan founder and content head of cloud computing path. I am 24 year old Commerce Graduate and currently pursuing my MBA. I am technology freak. Love to explore about technology .one great day I started this blog at my office to share more about tech with other techno lovers.
We always believe our user is our main suppowhorter and critics so feel free to comment or Send a suggestion.  If you have any doubts or query about any post @ cloud computing path please share with us. We are very pleased to help you.
We would love to hear from you.
Thank you to visit this page. Happy blogging.
Follow Us :-
Email Us:- [email protected]
Facebook:- Cloud Computing Path
Twitter:- @cloudcompath