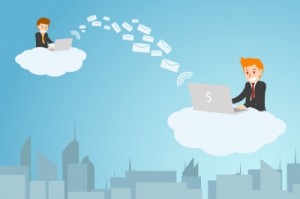 Cloud computing - the word that has been trending on the virtual landscape for a while now. What does it actually mean? It actually refers to the storing and recovering of data on a system that is being hosted externally on the internet. However, like everything else, the cloud deployment service also has its own set of disaster recovery plans and challenges associated with it. How are they dealt with then?
Cloud Computing Deployment- The Various Models Available On the Blocks
Cloud computing deployment is becoming quite a commonplace affair with more and more organisations opting for the system. There also is the fact that they get to choose from the various cloud deployment models that cater to and serve specific purposes.
Private cloud computing deployment- Also hailed as corporate cloud, this cloud deployment model has been designed to cater to the requirements of "individual organisations". This service can be handled in two ways- internally by means of the cloud computing service provider or externally by a third party.
Public cloud computing deployment- This is another significant model among the various cloud deployment methods available on the block that offers storage and computing resources to the public on the internet. Often classified under mainstream cloud, this model can also function on "pay- per-use" basis.
Community cloud computing deployment- Catering to the requirements of a specific community of users, community cloud deployment proves to be advantageous in the sense that organisations and industries can share updates, security issues and the like. Along with everything else this model also proves to be cost efficient as the charges get evenly distributed among organisations.
Hybrid cloud computing deployment- True to its name, hybrid cloud deployment service is an assimilation of the best features of two or all aforementioned computing models. The organisation or individual availing this service, thus, derives the benefits of each of the models. The service can be said to be one of a kind as it minimizes overcapacity and also aids in balancing "critical applications."
Hybrid Cloud Computing Deployment Disaster Recovery
Hybrid cloud computing deployment disaster recovery is an issue that is as straightforward as a maze. So, what are the possible complications that might come up in the process and how are they dealt with?
It has been well understood by now that hybrid cloud computing incorporates the assimilation of the distinct private and public cloud computing deployment models. And it is obvious that in integrating the two, the hardware and software demands of one may not be complied by another. This is the first challenge that one has to deal with- incompatibility of infrastructure. So, how can one possibly deal with this challenge? This can be solved in a couple of ways: One of the sites can be deployed for primary usage and the other for Disaster Recovery or multiple sites might be used as primary during the business hours and as back up during the non- working hours.
In the event of a calamity affecting wide domain of public infrastructure, it is often seen that the bandwidth and other such resources used in the integration of hybrid cloud computing collapse, thereby proving to be quite a challenging affair for the hybrid cloud computing deployment recovery issue. However, a constant and efficient duplication of records along with superior bandwidth connections can often solve things. It should also be noted that recovery sites means a lot more than the mere replication of data. It also has to be ensured that the application runs as smoothly and efficiently as it is running in the data center.
Image courtesy of bplanet at FreeDigitalPhotos.net