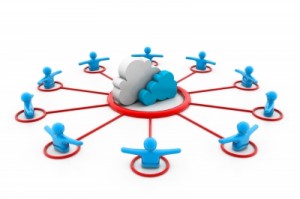 CRM, or customer (or constituent) relationship management, is a set of solutions that helps you organize and keep track of everyone connected such as vendors, staff and customers. Up until not so long ago, CRM was handled the traditional way. With the advent of cloud technologies, CRM gained a whole new set of capabilities and raised the bar on efficiency and performance of companies and individuals in the chain. Cloud based CRM is also quite cost competitive since the usual cloud CRM model is a pay as you go system. The vendor hosts and manages databases and everything else, leaving clients free to use the software on desktops, laptops, tablets or mobile phones. A cloud based CRM deployment is also environment friendly and consumes less energy while making less demands on the type of hardware a user has. With so many cloud based CRM solutions, it is a good idea to pick your package with care.
If you are already using CRM in some way, transitioning to a cloud based package is not that difficult. You know what you need and can pick the best cloud CRM based on your preferences and objectives. Assessing your requirements includes collaborating with all staff members to find out key elements of importance that will significantly contribute to overall enhancements in performance as well as give ease of use. The goals would be to make for easy workflows for all those involved to communicate seamlessly and access data securely as well as the degree of automation such as reminders and emails or scheduled messages.
Since CRM is defined as a process and supporting technology that helps you acquire and enhance relationships with everyone in the chain, you would want one that has sophisticated features, ease of use and performance on a variety of devices as well as safety and security. In order to pick the best cloud crm you would need to identify your constituent groups, have a clear understanding of the processes involved at present, anticipate developments in the future, and pick one that aligns with your needs in a scalable, elastic way.
Constituents: Know everything about everyone involved including staff, vendors, agents, consultants and buyers and their method of interaction.
Delineating the Processes: It helps to make a detailed list of processes used by the organization and each constituent as well as groups such as follow ups, status, contacts, messages, sales, services and data involved in the process. Look beyond to see how other features of a standard or custom cloud CRM could help bring better operational ease. Marketing, sales and services are the main heads.
Understanding the Process: Analyze and understand which of the best cloud CRM software has the features you prefer. For example, if you are a service oriented organization, you would pick the best cloud CRM that has more features relating to customer service and customer experience.
This is the first step to moving towards cloud-based CRM implementations. You could go in for standard cloud implementation or ask a vendor to offer a custom solution.
Image courtesy of ddpavumba at FreeDigitalPhotos.net